Summertime is the perfect time to hit the open road and explore new places. A great option is to take your bike on your adventures. There are many different types of bikes that make great beach cruisers, and each one has its own advantages. Here are the 7 best cruiser bikes with gears for both men and women that you can use on the beach sand which we have found from a lot of cruisers. The bikes can handle the occasional off-road excursion or if you just want something comfortable to ride around town, these beach cruiser bikes of 2022 might be the perfect option and almost all beach cruisers come with their own warranty.
We have kept Huffy Panama Jack Men's Beach Cruiser Bike as the best pick on our list. The Bike is just the ticket for getting outside and enjoying life at the budget rate. Whether you're riding to the beach or around town, this cruiser is perfect for leisurely rides with friends and family. When you pedal a Huffy, you feel the difference.
What is a beach cruiser bike?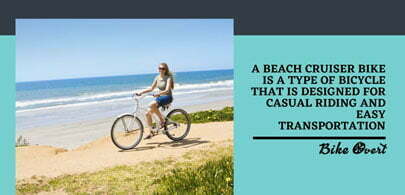 A beach cruiser bike is a type of bicycle that is designed for casual riding and easy transportation. Cruiser bikes have wide, comfortable seats, upright handlebars, and balloon tires, which make them perfect for cruising around town or on the beach. They are also very lightweight, making them easy to transport and store.
Cruiser bikes are available in both men's and women's styles and come in a variety of colors and designs. Some popular brands include Schwinn, Huffy, and Mongoose. If you're looking for a fun, easy way to get around town, a cruiser bike is a perfect choice!
What to look for in a beach cruiser bike while purchasing?
When looking for a beach bike, it is important to consider the different features that each bike has to offer. Some bikes have a more comfortable seat, while others may have a basket for holding personal belongings. It is important to find a bike that fits the individual's needs and preferences.
One of the most important things to look for when purchasing a cruiser bike is the tallness of the seat. The seat should be adjustable so that it can be raised or lowered to fit the rider's height. This will make sure that the rider is able to comfortably ride the bike.
Another thing to look for is how easy it is to brake the bike. Bikes with hand brakes are easier to control. It is also important to make sure that the tires are in good condition and have enough tread so that they will not slip on wet surfaces.
Beach riding is best for leisure rides but mountain biking is a great way to get outdoors and explore nature. Having a mountain bike within budget will be great. That's why we've written an article about budget-friendly mountain bikes that have full suspension. So, if you're looking to get into biking without breaking the bank, be sure to check out our latest article.
What can be the price for a good beach bike?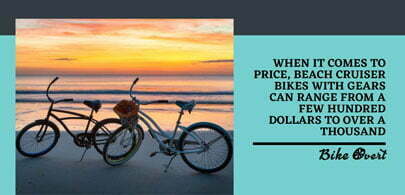 When it comes to price, beach cruiser bikes with gears can range from a few hundred dollars to over a thousand. There are various kinds of available. It all depends on the quality of the bike and the features that are included. Most people will find that they get what they pay for when it comes to bikes, so it is important to consider what type of riding you will be doing and how often you plan on using the bike before making a purchase.
Some factors that can affect the price of a cruiser bike include the brand, materials used, number of gears, and added extras like baskets or mudguards. It is important to do your research and compare prices before buying, as this can help assure you get the best deal possible.
Overall, beach cruiser bikes offer a great way to enjoy a leisurely ride along the beach or through town. We didn't take any highly costly bikes on our list. You will find all the bikes are absolutely within your budget range.
7 Best beach cruiser bikes with gears to choose from
1. Huffy Panama Jack Men's Beach Cruiser Bike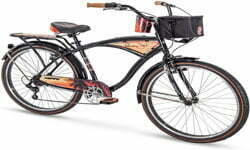 We know what it feels like to ride a cheap bike- it's not fun. You're pedaling along, enjoying the fresh air, and then- BAM!- your chain comes off and you're stuck walking. That's why the company has designed the Panama Jack Cruiser Bike with a smooth-shifting indexed Shimano TZ-31 rear derailleur which is able to be adjusted to accommodate different gear ratios of the 6 speeds. The derailleur has a wide range of adjustments to conforms that it can be set up to work properly with a variety of riding styles.

It's Really Cool How It Can Go So Fast on The Beach
My Personal Rating: 9.7/10
The Huffy Panama Jack Men's Cruiser Bike is perfect for anyone aged 13 and up, with a minimum rider of 5 feet tall. It's lightweight aluminum frame makes it easy to transport, and its comfortable seat makes sure a smooth ride. Plus, the stylish design makes it perfect for cruising around town or hitting the beach which will give you a great cruiser feel like an ideal cruiser.
The seat is set farther back than on a traditional bike, and the lower center of gravity makes it more stable. The swept-back handlebars also enable a more comfortable riding position and allow the rider to extend their legs more fully. Additionally, the elliptical's design enables a more natural range of motion for the legs, which can help reduce fatigue. It is completely a comfortable bike.
The alloy linear-pull brakes are lightweight, meaning they won't weigh you down while riding. They also have machined alloy wheel rims, which help to create superior brake pad contact and provide smooth stopping power. Additionally, the brakes are easy to install and use, making them a great choice for beginner and experienced cyclists alike.
The bike is loaded with accessories – a roomy front basket as a beverage holder, rear rack, and bottle opener – that make it perfect for a day out on the town or a weekend camping trip. The frame is backed by a limited 10-year warranty, providing peace of mind to the customer and that your new bike will last for years to come.
What I Like Most About This Bike:
This is one of the best of both worlds-a cruiser bike that's comfortable to ride, stylish, and easy to stow away when not in use.
With Huffy Panama Jack Men s Cruiser Bike, you'll be able to cruise the beaches with style and ease! Not only is this bike lightweight and perfect for cruising around town or the local trails, but it also has a sleek design that will make you look good doing it. I think the frame of the bike is probably the best frame.
What Are Attractive
What Are Unpleasing
---
2. Sixthreezero Men's Hybrid Cruiser Bicycle
This bike is built for comfort and beach special, with a Shimano 7-speed External Derailleur that makes it easy to switch gears on the go. This derailleur allows for a quick and easy change in gears while cycling, making it a popular choice for many cyclists. The external derailleur is mounted on the frame of the bike, rather than on the wheel, which gives you more control over the gear changes.

Ride Your Way to Relaxation With The 7 Speed
My Personal Rating: 9/10
This sixthreezero cruiser comes with an aluminum city frame, a cruiser bike with matching fenders, and 26″ wheels. It also has reflectors for safety. This bike is perfect for anyone who wants a comfortable and stylish bike to ride around town or the beach. The aluminum frame makes the bike lightweight and easy to maneuver, while the cruiser style and 26″ wheels provide a smooth and comfortable ride.
The frame of the bike is designed in a way that makes it easy to step through and get on and off the bike. This is especially beneficial for people who are not as flexible, as they don't have to bend over as far to get on the bike. Additionally, the upright position puts the rider in a more comfortable and heads-up position. This is ideal for people who want to be able to see where they are going and remain more aware of their surroundings.
The bike has a Brown synthetic leather comfy saddle and grips with classic stitching. The saddle is designed for a comfortable ride with a stylish look. The stitching gives the bike a classic look that is sure to turn heads. The grips are also designed for a comfortable, secure grip.
The bike has 2″ semi-slick wider tires, which provide excellent roll and a cushioned, stable ride. This combination makes the bike an ideal choice for commuting or for fitness enthusiasts who want a smooth, comfortable experience.
What I Like Most About This Bike:
Accommodates riders of all sizes.
The foot-forward seat and pedal position on the Sixthreezero Hybrid-Bicycles EVRYjourney Men's Hybrid Cruiser accommodates riders of all sizes, so you can share the experience with family and friends, no matter their height. The comfortable saddle and upright riding position make it comfortable to sit with full leg extension without tricks. This is an excellent beach cruiser.
What Are Attractive
What Are Unpleasing
---
If you are a man who enjoys biking with stunts like wheelies then never purchase your latest MTB without reading our latest article that provides an in-depth look at the best MTB for wheelies. Whether you're a beginner looking to get started, or a seasoned pro wanting to take your skills to the next level, this article has you covered.
3. Kulana Lakona Youth/Adult Beach Cruiser Bike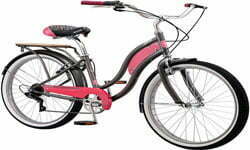 The Kulana Lakona bike is ideal for anyone who wants to explore mountain trails or cruise on scenic roads like the sea beach. With a seven speed drivetrain, the Lakona can handle any terrain you throw at it. Plus, twist shifters make it easy to change gears while you're pedaling along. you'll love the twist shifters that make it simple to change gears while you're riding. The bike adds simplicity to cycling.

A Stylish Bike Within A Tinny Budget
My Personal Rating: 8.9/10
The step-thru frame makes it easy to get on and off, while the 26 " wheels provide a smooth, comfortable ride. The company claim that the bike is adjustable to fit riders 5'4 " to 6'2 " inches tall, but we found that it demands taller persons to fit it perfectly.
The easy-reach swept back handlebars make it easy to steer, and the laid-back seat post provides a relaxed riding position that allows you to ride for long distances. Plus, the bike comes in a variety of colors, so you can find the perfect one to match your style.
The bike has front and rear linear-pull brakes that provide crisp stopping power. Linear pull brakes are very efficient and provide a very crisp stop. This is because they apply pressure directly to the rim of the wheel, as opposed to other brake systems that rely on squeezing pads together. As a result, they are ideal for mountain biking and cyclocross.
The Lakona Tide's wide dual-spring cushioned saddle is mounted on an adjustable, tool-free, steel seat post. This combination of features makes it easy to adjust the saddle to fit your height and riding style. The saddle is also well-cushioned, making it comfortable to ride for long distances. Additionally, the steel seat post is long-lasting and can withstand a lot of wear and tear.
What I Like Most About This Bike:
Rear wood rack for Kulana Lakona Youth Adult Cruiser Bike.
The matching rear wood rack on this bike makes it unique. The wood gives the bike a natural look and feel, while the rack itself is functional and stylish. This combination makes the bike stand out from other bikes on the market. The wood rack also adds a touch of whimsy to the bike, making it even more fun to ride. The standard cruiser is made for beach cruising.
What Are Attractive
What Are Unpleasing
---
4. Elecony Freeland Unisex Cruiser Bike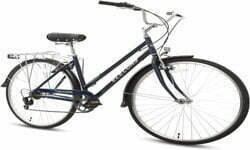 There are few things more frustrating than working hard on a ride only to have your chain slip halfway up a hill. With the Elecony bike, you'll never have to worry about that again. This bike is equipped with a 7 Speed Shimano Drivetrain which lets you quickly select gears for various terrains. Whether you're stuck in stop-and-go city traffic or cruising down a country road, the Elecony has got you covered.

Looking Sharp On Your Bike Ride – Check Out Elecony
My Personal Rating: 8.8/10
The saddle of the bike is thick and has dual-density padding for good softness and elasticity. This makes it ideal for absorbing bumps, which is important for a comfortable cycling experience. The saddle is also ergonomically designed for a more comfortable fit. Plus, the quick-release seat clamp makes it easy to adjust the saddle height to your preferences.
It looks like a simple shape bike but this beach cruiser bike uses a high carbon steel frame with a low center of gravity design. This makes it easier to balance and gives the rider a more comfortable experience. The swept-back handlebars provide a relaxed riding position that reduces strain on the back and neck, making it great for long rides.
The Elecony Cruiser Bicycle is equipped with regular and simple front and rear V brake systems. This makes the Cruiser a reliable mode of transportation for individuals who are looking for a leisurely ride or for those who need to commute to and from work. The V brake is easy to use and maintenance.
Elecony Freeland Unisex Cruiser Bike is pre-assembled and easy to assemble. It is perfect for the casual cyclist who wants a comfortable, stylish bike to commute or cruise on beaches.
What I Like Most About This Bike:
Upper-quality gear components.
Breeze past the competition with the Elecony Freeland 26 27.5 Inch Unisex Cruiser Bike! Its upper-grade Shimano Drivetrain provides smooth, fast transitions that will leave your opponents in the dust.
The Shimano TY200 rear derailleur is a great choice for those who want to be able to shift smoothly on their bike, regardless of the terrain. With its twist shifters, you can easily change gears without having to worry about your chain coming off.
What Are Attractive
What Are Unpleasing
---
5. Barbella Women's Beach Cruiser Mountain Bike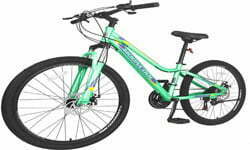 If you're looking for a bike that can do it all, then this is the type of new beach cruiser for you. Whether you're cruising around town, the beach, or hitting the trails, this bike can handle it all. With a 21-speed derailleur, it's easy to climb up hills too. So, if you're looking for a versatile and durable bike, then this is the perfect choice for you. The unique and out-of traditional beach cruiser is the most budget-friendly bike on our list.

Most Appreciating Combo With The Great Customer Service
My Personal Rating: 8.5/10
The Barbella beach cruiser is one that is available in three different sizes, 20, 24, and 26-inch wheels. This allows the bike to fit different sizes of riders. The bike frame is made of a sturdy and durable combination of aluminum and steel materials. The frame makes this bike a perfect choice for long rides. Moreover, the bike is available in different colors to choose from. This allows the customer to pick the one that best suits their personality.
The bike features Dual Suspension Upgrade, meaning it has a frame with suspension. Adding dual suspension to your frame will help to soak up bumps and thumps along the way, making for a more durable riding experience on both beach and mountain trails. This can be especially beneficial if you're tackling tougher terrain, as you'll be able to navigate more easily and with less impact on your body.
The bike seat is adjustable in height to fit the customer's needs. This is a valuable feature because it means that people of all different heights can use the bike comfortably. Tall people don't have to worry about being cramped on a short seat, and short people don't have to worry about being too high up. The adjustable height also helps to prevent any pain or discomfort that you may experience while riding. You will feel better cruising by the beach.
With such a low budget they are giving the front and rear disc brakes with Quick Release. The quick-release levers make it easy to install and remove the brakes, so you can get back on the road in no time. And the disc brakes provide plenty of stopping power, even in wet weather. So if you're looking for an affordable way to get a good-looking and versatile bike then Berbella can be the right choice.
What I Like Most About This Bike:
The Barbella beach cruiser is the perfect combination of a cruiser and mountain bike, offering the best stopping power. Moreover, the security features make this bike perfect for any rider looking for a versatile and reliable bike. Usually yo will not see this type of bike around the neighborhood.
One of the benefits of having a combination is that it can help you tackle any terrain. Whether you're riding on pavement, dirt, or even sand, you'll be able to get where you're going with ease. Another benefit is that this type of bike is very versatile. I didn't find any bike like it around the block. You can use it for commuting, leisurely rides, or even racing.
What Are Attractive
What Are Unpleasing
---
Best cruiser bikes for women of 2022
Cruiser bikes are a great way for women to get around town or enjoy a leisurely ride on the beach. But with so many cruiser bike options on the market, it can be hard to know which one is right for you, especially for women's bikes. Here are some of the best women's cruisers, based on our experts' picks.
1. Schwinn Huron Adult Beach cruiser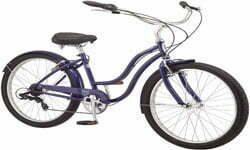 Is your daily commute leaving you feeling stressed and exhausted? Tired of being packed into a busy train or bus like a sardine? longing for a more relaxed, independent way to get to work? If so, the Schwinn Huron Adult Beach Cruiser with 7 speeds is the perfect solution for you. With its twist shifters, this bike makes it easy to change gears so you can go at your own pace. This is the women's cruiser bike you will love.

If You Are A New Rider Then This Is The Bike One
My Personal Rating: 9.5/10
The Schwinn Huron Beach cruiser frame is a steel-framed cruiser bike that is hard enough to withstand in spite of being heavy. It is ideal for riders between 5'4″ and 6'2″ tall. It features a Shimano rear derailleur, alloy crankset, and linear-pull brakes. These features make it a great choice for anyone looking for a durable and reliable cruiser bike. This may be the best bike for newbies on beach biking.
This bike has a wide, dual-spring padded cruiser seat which makes it comfortable to sit on for long periods of time. The classic cruiser upright handlebars also make it comfortable to ride, as they provide a more relaxed riding position.
The Intuitive rear coaster brake provides simple stopping power, which is not excellent but good. This brake is easy to use and is perfect for people who are just starting to ride bikes. The included retro fenders keep you clean and dry, which is a great feature for people who bike in the rain or snow. Overall, this bike is a great value for the price.
The lightweight and strong aluminum alloy rims found on most bikes provide good support for braking. This is due to the hardness and strength of the alloy, which can handle the stress of stopping a moving bike. Additionally, the rims are often anodized or painted to prevent corrosion and increase their lifespan.
What I Like Most About This Bike:
Don't be a wimp – take the Schwinn.
Dual-spring padded cruiser seats and classic cruiser handlebars are the best part of this bike. They provide a comfortable, better upright seating position and easy handling compared to contemporary cruiser bikes. The combination of these features makes the bike more enjoyable to ride, which is why they are popular with riders.
What Are Attractive
What Are Unpleasing
---
2. Schwinn Cruiser-Bicycles Sanctuary 7
Shifting gears on a bike shouldn't be something that you have to think about – it should be natural and effortless. With the 7speed twist shifter, it is. You'll be able to enjoy your ride without having to worry about gear shifting because this bad boy takes care of it for you. Moreover, the company provides a limited lifetime warranty of the frame. So think about it.

Most Comfortable Cruiser That Easy To Operate
My Personal Rating: 9/10
This steel-framed cruiser 1 step-through bike offers strong and heaviness to the bike. The 26-inch wheels fit riders 64 to 74 inches tall, and the wide saddle and ergonomic grips make it easy to stay in control while you cruise. The saddle is comfortable and adjustable, so you can find the perfect fit for your body. Plus, this bike is versatile and can be used for commuting, fitness, or just plain fun.
Full fenders of the bike keep mud and dirt away from your clothing, while the rear cargo rack holds everything you need to carry along for the journey. This makes it perfect for commuting, as you can easily bring all of your belongings with you on the bike. The sturdy construction will that your belongings stay safe and secure, no matter how bumpy the ride may be.
The aluminum alloy rims on the bike are incredibly lightweight and strong, making them perfect for cruising around town. The cruiser is one that is very easy to operate. The padded cruiser saddle is also very comfortable, thanks to its springs, so you can ride in complete comfort. Plus, the bike's simple design makes it easy to operate and maintain which brings you a great beach cruiser feel.
Full fenders of the bike keep mud and dirt away from your clothing. This is a very important feature if you want to stay clean while riding your bike. The fenders attach to the frame of the bike and extend out to cover your clothes. They are made of heavy-duty plastic or metal and can be very effective in keeping you clean.
Overall this step-through cruiser is a good bike that goes flexibly with your budget.
What I Like Most About This Bike:
The bike is made with a very sustainable build quality. This means that the bike is built to last and can withstand a lot of wear and tear. The materials used to construct the bike are also environmentally friendly, making it a very eco-friendly option for transportation so that you can ride on your favorite beach.
What Are Attractive
What Are Unpleasing
---
Types of beach cruiser
There are different that cater to different riding styles. The most common type is the single-speed cruiser, which is perfect for a laid-back cruiser ride.
If you're looking for a bike that you can take on longer rides, consider an Electra cruiser. These bikes usually have multiple speeds and come with comfortable accessories like baskets and cup holders. No matter what type of cruiser you choose, you're sure to enjoy the relaxed ride they offer.
How to take care of your beach cruiser bicycle to keep it in good condition?
Bicycles, in general, a good vehicle but similarly need some maintenance and care to keep them running smoothly. Cruiser bikes are no exception. Here are a few tips on how to take care of your cruiser bike to keep it in good condition:
Be sure to check the air pressure in the tires regularly and adjust as needed. Underinflated tires can wear down quickly and lead to a blowout.
Keep an eye on the chain and lubricate it as needed. A dry chain can cause transmission problems and wear down the chain and gears over time.
If your bike gets wet, be sure to dry it off completely before storing it away. Wet metal can rust quickly, and corrosion can damage the bike frame and other components.
Frequently asked questions
What Kind Of Bike Is Good For The Beach?
When you think of biking, the beach might not be the first place that comes to mind. But believe it or not, there are some great bike paths near the shoreline. And if you're looking for the perfect vehicle to ride on them, a beach cruiser might be just what you need.

These bikes are designed for easy pedaling and comfortable cruising, making them perfect for leisurely rides along the boardwalk or through the sand. They come in a variety of styles, so you can find one that fits your personality and riding preferences. Plus, they're often lightweight and easy to store, which is a plus if you're limited in space.

There are a few reasons why road bike is not ideal for the beach. First, the sand can be difficult to ride on, and second, salt water can damage the bike.

Electric bikes, or electric cruiser bikes, are a great option for those who want to enjoy the beach without worrying about pedaling. They are also much more environmentally friendly than traditional gas-powered vehicles.

There are many different types of electric beach cruiser bikes available on the market, so it is important to do some research before purchasing one. Make sure to read reviews and compare prices before making a final decision.

So if you're looking for a way to get around the beach this summer, consider picking up a beach cruiser. You'll love the freedom and convenience it provides!
How Should Be The Handlebar Of A Cruiser?
There are many cruiser bike owners who don't know how to properly adjust the handlebars on their bikes. This is especially true for those who have never owned a regular bike before. Normally, let your handle inclines, it will be more comfortable. Here are some tips on how to properly adjust the handlebars on your cruiser bike so you can ride in comfort and style.

1. The first thing you need to do is loosen the bolts that hold the handlebars in place.

2. Next, you need to raise or lower the handlebars until they are at a comfortable height for you.

3. Once you have adjusted the height of the handlebars, you need to tighten the bolts back up.

It is also important to make sure that the handlebars are level with each other. If they are not level, it can cause your bike to pull to one side or the other when you ride it.
Do beach cruiser bikes have gears?
Are you curious if beach cruiser bikes have gears? The answer is both yes and no. While some cruiser bikes come equipped with gears, others do not. If you're looking for a bike that offers more gears, then you'll want to go with a model that has them. However, if you're looking for a bike that's easy to ride and doesn't require too much maintenance, then a model without gears may be the better option for you.
Why Do You Need A Cruiser Bike That Has Gears?
A cruiser bike is perfect for a leisurely ride on the boardwalk or through the neighborhood. They are designed for comfort, with a relaxed riding position and wide tires that provide stability and absorb bumps. But what if you want to go a little bit faster? That's where gears come in.
A bike with gears gives you more options for how hard you want to work while riding. With lower gears, you can pedal slowly and easily up a hill, while higher gears let you power through flats and downhills. This versatility makes a beach cruiser with gears perfect for everything from a casual Sunday ride to commuting to work.
Plus, gears add an extra layer of safety to your ride. If you're ever caught in a rainstorm or need to make it up a steep hill, being able to switch to a higher gear can make all the difference.
The problem with a single speed cruiser that has not in multiple gears cruisers is that it can be difficult to pedal the bike uphill. This is because you are relying on only one gear to power the bike, and if this gear is not well-suited to the incline of the hill, you will have to work much harder to pedal the bike.
How Many Miles Should You Travel At A Time?
Make your beach cruiser rides count by clocking in enough miles to get your heart rate up, but not so many that you're saddle-sore the next day. How many miles you ride at a time will depend on your level of fitness, but as a general rule, you should aim to ride at least 2-3 miles at a time.
If you want between 2-3 miles you can park your bike for a little to rest and then start the journey again. This way, ride smooth, you'll get some good exercise without overdoing it. You may want to be fit smartly.
Of course, there are always exceptions to the rule. If you're feeling especially energetic one day, or if you want to explore a new part of the park, feel free to go for a longer ride. Just be sure to listen to your body and take breaks when you need them.
What Speed Is A Cruiser Bike?
When it comes to cruiser bikes, there is no set speed that all of them must abide by. Cruiser bikes are designed for a more leisurely ride, and as such, can go at whatever speed the cyclist feels most comfortable at. Some people may choose to go slowly and take in the sights around them, while others may choose to bike at a more moderate pace. Ultimately, it is up to the individual rider to decide what speed is best for them when cruising on their cruiser bike.
Are Adult Beach Cruiser Bikes Just For Riding On The Beach?
Beach cruiser bikes are a type of bicycle that is typically used for riding on the beach. However, they can also be used for riding on other surfaces, such as pavement or trails. Cruiser bikes are designed with a comfortable, upright riding position and are equipped with wide tires that provide a smooth ride. They are also typically equipped with fenders and a rear rack, which makes them ideal for carrying cargo.
What Are 7-Speed Bikes Good For?
A seven-speed bike is a good choice for people who want a versatile bike that can handle different types of terrain. Seven-speed bikes are also good for people who want to be able to cycle quickly on the roads. Seven-speed bikes can also be used for commuting and for light touring.
Conclusion
In conclusion, if you are looking for a versatile bike that is perfect for riding on the beach, then choose bikes on this list from the list that goes with your purpose. We always try to recommend the best products. These bikes are comfortable and easy to ride, and they offer a great way to explore your local coastline. So if you are in the market for a new bike, be sure to consider one of these 7 best beach cruiser bikes with gears.